Iceland, known for its breathtaking landscapes and natural wonders, has emerged as one of the most sought-after destinations for elopements. Whether you're looking for a romantic and adventurous wedding experience or simply want to escape the traditional wedding norms, eloping in Iceland offers a unique and unforgettable way to say "I do." In this comprehensive guide, we will take you through the process of planning your dream elopement in Iceland, from choosing the perfect location to organizing all the necessary details. Whether you're a local or a foreigner, this guide will provide you with everything you need to know about how to elope in Iceland.
Why Elope in Iceland?
Iceland's diverse landscapes offer a stunning backdrop for your elopement. From cascading waterfalls and majestic glaciers to black sand beaches and rugged mountains, Iceland has it all. The country's untouched beauty and sense of adventure make it an ideal destination for couples seeking a unique and intimate wedding experience. Additionally, Iceland's marriage laws make it one of the easiest countries to get married in, regardless of your nationality. So, whether you're drawn to Iceland for its natural wonders or its ease of wedding planning, eloping in Iceland promises to be an unforgettable experience.
Choosing the Right Time of Year
When planning your elopement in Iceland, it's important to consider the best time of year to visit. Iceland experiences dramatic weather changes throughout the year, each offering its own unique charm. The most popular time to elope in Iceland is during the summer months (June-August) when the weather is mild, and the days are long. However, this also means that popular tourist spots can be crowded during this time. If you prefer a more secluded experience, consider eloping during the shoulder seasons (spring and fall) when the weather is still favorable, and the landscapes are equally stunning. Winter elopements offer a chance to witness the mystical Northern Lights and enjoy a snowy wonderland, but be prepared for colder temperatures and shorter daylight hours.
Finding the Perfect Location
Iceland is known for its abundance of stunning elopement locations, each offering its own unique charm. Whether you're dreaming of exchanging vows in front of a majestic waterfall, on a black sand beach, or atop a glacier, Iceland has it all. Here are some of the most popular elopement locations in Iceland:
Skogafoss Waterfall
Skogafoss is one of Iceland's most iconic waterfalls, known for its impressive height and powerful cascades. This breathtaking location offers a dramatic backdrop for your elopement ceremony. However, keep in mind that Skogafoss can be crowded, especially during peak tourist seasons. Consider visiting early in the morning or during the shoulder seasons for a more intimate experience.
Seljalandsfoss Waterfall
Seljalandsfoss is another popular waterfall in Iceland, famous for its unique feature that allows you to walk behind the cascading water curtain. This offers a truly immersive experience and stunning photo opportunities. However, be prepared for crowds, as this waterfall is a well-visited attraction. Consider visiting during off-peak hours for a more private experience.
Reynisfjara (Black Sand Beach)
Reynisfjara, also known as the Black Sand Beach, is a mesmerizing location with its unique black sand, basalt columns, and powerful waves crashing against the shore. This otherworldly beach provides a dramatic and romantic setting for your elopement. However, be cautious of the powerful waves and unpredictable weather conditions. It's important to prioritize safety when exploring this beautiful but potentially dangerous location.
Jokulsarlon (Glacier Lagoon)
Jokulsarlon, also known as the Glacier Lagoon, is a breathtaking natural wonder filled with floating icebergs and surrounded by stunning glaciers. This picturesque location offers a serene and ethereal atmosphere for your elopement. However, keep in mind that it is a popular tourist spot, so plan your visit accordingly to avoid crowds and ensure a more intimate experience.
Kirkjufell (The Mountain)
Kirkjufell, often referred to as "The Mountain," is one of Iceland's most photographed landmarks. With its unique shape and stunning surroundings, it provides an idyllic backdrop for your elopement. The nearby Kirkjufellsfoss waterfall adds an extra touch of enchantment to the scenery. While this location can be busy with tourists, it is still possible to have a private ceremony with careful planning and timing.
Planning Your Iceland Elopement Package
Once you have chosen your dream location, it's time to plan your Iceland elopement package. This includes selecting the right vendors, arranging accommodations, and taking care of all the necessary paperwork. Here are the key elements to consider when planning your elopement package:
Choosing the Perfect Photographer
One of the most important aspects of your elopement package is finding the right photographer to capture your special day. Iceland's stunning landscapes deserve to be documented by a skilled professional who can capture the beauty and emotions of your elopement. Take the time to research and connect with photographers who specialize in elopements and have a style that resonates with you. Consider their experience, portfolio, and reviews from previous clients. Don't hesitate to reach out and have a conversation to ensure they understand your vision and can bring it to life through their photography.
Booking Accommodations and Flights
When eloping in Iceland, it's important to secure your accommodations and flights in advance. Iceland offers a range of options, from luxury hotels to cozy guesthouses and unique Airbnbs. Consider your budget, preferred location, and desired amenities when choosing your accommodations. It's also advisable to book your flights early to secure the best deals and ensure smooth travel to and from Iceland.
Creating Your Vision and Theme
Every elopement should have a unique vision and theme that reflects the couple's personalities and desires. Take the time to discuss and define your vision for your Iceland elopement. Do you dream of an intimate ceremony surrounded by nature, a romantic celebration in a rustic setting, or a whimsical elopement in a fairytale-like location? Once you have a clear vision, you can start planning the details, such as the decor, attire, and overall ambiance of your elopement.
Narrowing Down Locations and Itinerary
With so many stunning locations in Iceland, it can be challenging to choose the perfect spot for your elopement ceremony. Consider the atmosphere, accessibility, and significance of each location to you as a couple. Research different sites, consult with your photographer or wedding planner, and visit the locations if possible to get a firsthand experience. Once you have selected your ceremony location, plan the itinerary for the day, including any additional locations you wish to explore for your wedding photos.
Additional Vendors and Services
Beyond the photographer, there are other vendors and services to consider for your Iceland elopement package. These may include a wedding planner, florist, hair and makeup artist, officiant, and transportation services. Determine which vendors are essential to bring your vision to life and start reaching out to them early in the planning process. Consider their expertise, availability, and compatibility with your vision and budget.
Gathering and Submitting Documents
Getting legally married in Iceland requires certain documents and paperwork, especially for foreign couples. Research the specific requirements and timeline for submitting the necessary documents, such as passports, birth certificates, and any required translations or certifications. Ensure that you allow ample time to gather and submit these documents to ensure a smooth and legally valid elopement.
Bringing Your Dream Wedding to Life
After months of planning and anticipation, the day of your Iceland elopement will arrive. Take the time to relax and enjoy the experience. Embrace the beauty of the Icelandic landscapes, the intimacy of your ceremony, and the love between you and your partner. Trust in the professionals you have chosen to handle the logistics and capture your special moments. Remember, this is your day to celebrate your love and create memories that will last a lifetime.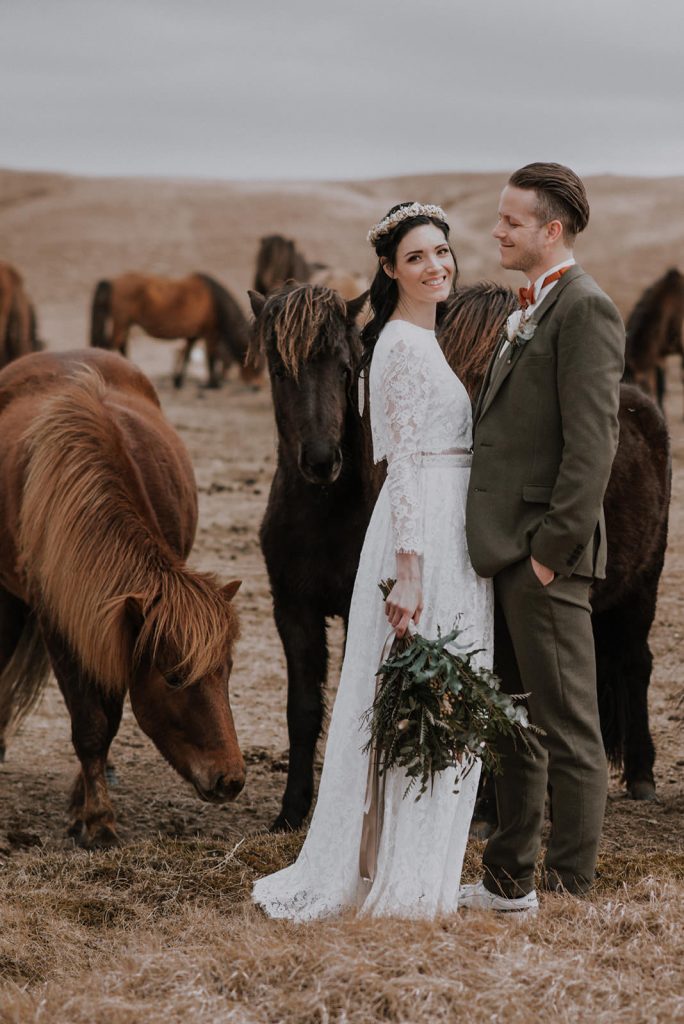 Time for your adventurous elopement in Iceland
Eloping in Iceland offers a one-of-a-kind experience for couples seeking adventure, romance, and natural beauty. From the awe-inspiring waterfalls to the enchanting black sand beaches and majestic glaciers, Iceland has it all. By following this ultimate guide, you will have all the information and tools you need to plan your dream elopement in Iceland. Remember to consider the best time of year, choose the perfect location, and curate your elopement package to reflect your unique vision. Embrace the adventure and create a wedding experience that is as unforgettable as the landscapes that surround you.