Elopement is a term used to describe a wedding ceremony that takes place in a private and intimate setting, usually without the presence of family and friends. In recent years, elopements have become more popular due to their affordability, flexibility, and the desire for a more personal and authentic wedding experience.
There are many reasons why people choose to elope. Some couples want to avoid the stress and financial burden of planning a large wedding, while others prefer a more romantic and intimate setting. Elopements also provide an opportunity for couples to focus on their love and commitment to each other, rather than the expectations and opinions of others.
Scotland has emerged as a popular destination for elopements, offering stunning landscapes, rich history, and a variety of venues and packages to suit every couple's needs. In this article, we will explore why Scotland is an ideal destination for elopements, as well as the practicalities of planning an elopement in Scotland.
Table of Contents
What is an elopement wedding?
Eloping is an alternative to a traditional wedding and can be for any couple who want to marry quickly, without the fuss and expense of a big event. The word 'elopement' literally means to run away with somebody, but in its modern context it simply refers to getting married in a quick and private way.
These days elopements are more common than you might think. And if you're looking for inspiration for your own Scottish elopement then this guide will help you plan yours from start to finish.
Legal requirements for eloping in Scotland
Eloping to Scotland requires a few legal procedures to be followed before the couple can exchange their vows.
If you wish to marry in Scotland you must complete a marriage notice and follow the steps covered here.
Here are some of the legal requirements for eloping in Scotland:
Minimum age and residency requirements: In Scotland, the legal age to get married is 16 years old. However, if you are under 18, you will require written consent from both parents or guardians. There are no residency requirements to get married in Scotland, which makes it a popular elopement destination for couples from all around the world.
Notice of marriage requirements: Couples intending to get married in Scotland must submit a Notice of Marriage form to the Registrar of Marriages at least 29 days before the wedding. This notice can be submitted up to three months in advance of the wedding date.
How to obtain a marriage schedule: A marriage schedule is a legal document that allows the couple to get married in Scotland. The schedule can be obtained from the Registrar's office no earlier than seven days before the wedding and no later than the day of the wedding. The couple must bring the schedule to the wedding ceremony, and it must be signed by the couple, two witnesses, and the person who conducted the ceremony.
Where to Elope in Scotland?
There are so many options when it comes to eloping in Scotland. There's the Scottish Highlands, which is home to some of the most breathtaking scenery and natural beauty on earth. Or you could elope in one of Scotland's many islands, including Arran, Mull and Skye—all popular destinations for eloping couples and honeymooners alike.
Or perhaps you'd like to get married at one of Scotland's romantic border towns? The Scottish borders include cities like Carlisle, Jedburgh and Kelso. You can even have an entirely unique experience by eloping in a small village or town that isn't on anyone's radar but still has all the charm expected from a Scottish wedding venue!
Finally there's Edinburgh—the capital city where you can marry either at your choice venue or at any location within the city centre limits. There are plenty of beautiful wedding venues in Edinburgh. And then there's Glasgow—Scotland's largest city with plenty going on throughout its streets!
Best Places to Elope in Scotland
There are many different places in Scotland where you can get married. You can do it in a registry office, church, castle or boat; at your home; at a hotel; even on the beach. Incorporating some Scottish wedding traditions into your wedding can also add plenty of charm to your intimate 'I dos'.
Scotland is known for its stunning landscapes, historic castles, and rugged coastlines, making it a popular destination for elopements. Here are some of the best places to elope in Scotland:
Eilean Donan Castle
This iconic castle, located in the western Highlands, is a popular spot for elopements. With its picturesque location on a small island, it offers a beautiful backdrop for your wedding photos. The castle also has a romantic history, making it a perfect place to exchange vows. However, keep in mind that it can get busy with tourists, so you may need to plan accordingly.
Edinburgh Castle
If you're looking for a castle with a city vibe, Edinburgh Castle is a great option. It's located in the heart of Edinburgh and offers stunning views of the city. Plus, it's steeped in history, making it a unique and romantic place to get married. However, it's worth noting that the castle can be quite busy, so you may want to consider a weekday wedding to avoid crowds.
Isle of Skye
The Isle of Skye is known for its rugged landscapes, beautiful beaches, and dramatic mountains. It's a popular spot for elopements, with many beautiful locations to choose from. Whether you want to exchange vows on a secluded beach or with a mountain backdrop, the Isle of Skye has something for everyone.
Scottish Highlands
If you're looking for dramatic landscapes and stunning vistas, the Scottish Highlands are hard to beat. With rolling hills, towering mountains, and sparkling lochs, the Highlands offer a breathtaking backdrop for your elopement. Just be prepared for unpredictable weather, as it can be quite chilly and rainy at times.
Elgol Beach
Located on the Isle of Skye, Elgol Beach is a hidden gem that's perfect for a romantic elopement. With its crystal-clear waters, golden sands, and stunning views of the Cuillin Mountains, it offers a unique and picturesque location for your wedding. However, keep in mind that it can be a bit difficult to get to, as the road leading to the beach is narrow and winding.
Scotland offers a wide range of stunning locations for your elopement, from historic castles to rugged landscapes and picturesque beaches. Whether you're looking for a city vibe or a remote wilderness, you're sure to find the perfect spot for your special day.
Gretna Green
Gretna Green is a popular destination for elopements in Scotland. It is located just over the border from England and has a rich history of runaway marriages. The town's reputation as a place for quick and easy marriages dates back to the 1700s when Scottish law allowed people over the age of 16 to marry without parental consent. This made Gretna Green a popular destination for young couples seeking to elope.
Today, Gretna Green is still a popular destination for elopements, with many couples choosing to marry at one of the town's historic wedding venues or at the famous Gretna Green Blacksmiths Shop. The town offers a range of elopement packages and services, including photography, flowers, and wedding planning assistance.
How to plan an elopement in Scotland
Planning an elopement in Scotland can be an exciting and romantic experience. Here are some key steps to consider when planning your Scottish elopement:
Choosing a date and time
Scotland's climate can be unpredictable, so consider the season and weather when selecting a date. Keep in mind that summer is peak tourist season, so popular locations may be more crowded.
Scotland has a temperate climate, meaning that it doesn't get as cold in winter as other parts of the world and it doesn't get too hot in summer. The best times to visit Scotland are spring and summer, but you should be aware that there is a chance of rain at all time. It's also worth checking out the weather forecast before you travel because some areas can get very windy or wet during these months.
Hiring vendors
You will need to hire an officiant to perform the ceremony and a photographer to capture your special day. Scotland has many experienced vendors who specialize in elopements and intimate weddings.
Applying for a marriage license
To legally elope in Scotland, you will need to obtain a marriage license. This can be done by submitting a Notice of Marriage form at least 29 days before your wedding date.
Selecting accommodations
Scotland has a wide range of accommodations, from cozy bed and breakfasts to luxurious hotels. Consider staying in a location that offers beautiful views and easy access to your chosen elopement location.
Tips for a stress-free elopement day
Keep things simple and focus on what is most important to you as a couple. Be sure to communicate with your vendors and make a detailed schedule for your elopement day. Consider hiring a wedding planner to help with logistics and reduce stress.
Planning an elopement in Scotland can be an unforgettable experience. With a bit of preparation and the right team of vendors, you can create a beautiful and intimate wedding day that you will cherish for a lifetime.
Cost of Eloping in Scotland
Eloping in Scotland can be a more cost-effective alternative to a traditional wedding, especially for those who want an intimate and romantic ceremony. However, it's important to understand the typical expenses involved in order to plan your elopement budget.
Travel and Accommodations
The cost of travel and accommodations will largely depend on your location and the time of year you choose to elope. Popular elopement destinations like Edinburgh, Isle of Skye, and the Scottish Highlands can have higher accommodation costs during peak tourist season. It's recommended to book accommodations in advance to secure availability and potentially receive discounted rates.
Vendor Fees
Hiring vendors such as an officiant, photographer, and florist will also factor into your elopement costs. Many vendors offer elopement packages that may be more affordable than their traditional wedding services. Prices may vary based on the vendor's experience and expertise, as well as the level of customization and additional services you request.
Marriage License and Registration Fees
In Scotland, the cost of a marriage license and registration is typically around £70-£80. It's important to note that you will need to give notice of your intent to marry at least 29 days prior to your elopement date, which may also incur additional fees.
What is the average cost of an elopement in Scotland?
The cost of eloping in Scotland can vary depending on the type of package you choose and the vendors and services you hire. On average, an elopement in Scotland can cost anywhere from £4000 to £15,000, with all-inclusive packages generally costing more than more customizable options. It's important to consider factors such as travel, accommodations, vendor fees, and the cost of obtaining a marriage license and registration when budgeting for your elopement
Eloping versus Traditional Wedding Costs
While eloping in Scotland can be a more cost-effective option compared to a traditional wedding, it's important to consider your personal preferences and priorities. A traditional wedding may offer more flexibility for a larger guest list and personalized details, but can also come with a higher price tag. Eloping may be more affordable and allow for a more intimate and personalized experience.
Ultimately, the cost of eloping in Scotland will depend on a variety of factors, such as location, vendors, and personal preferences. It's important to set a budget and research options in order to plan a memorable and affordable elopement.
Finding local wedding suppliers
Local wedding suppliers. When you're looking for a photographer, or even florists and caterers, it's important to go local. This is especially true when planning an elopement in Scotland because the scenery is so stunning that your images need to be captured by someone who knows the area well.
Some things to look for in a wedding supplier:
References
Check with previous brides and grooms who have used this service before so you can see what kind of work they are doing. If possible, speak with them directly so they can talk through their experience; this should give you a good idea of whether they know how to do what they say they do (and whether or not you'll like working with them).
Price-point
Price will vary from one supplier to another—some offer more expensive options while others are more affordable—so make sure that whatever your budget is can accommodate what you want!
Weather Conditions to Prepare for
The weather is another important consideration for your elopement in Scotland. Scotland has a famously changeable climate, and you may well find yourself experiencing everything from blisteringly hot sunshine to driving rain as you travel around the country. It's worth bearing in mind that if your plans include hikes or other outdoor activities you should bring waterproofs and warm clothes just in case the weather takes a turn for the worse. It's also worth considering whether you will need to hire equipment such as walking sticks or waterproof jackets (if only for guests).
If you do plan on doing any hiking during your trip, it's worth preparing ahead of time by wearing suitable footwear – this can vary depending on where exactly you're going but generally speaking sturdy shoes/boots are preferable as they offer better support than flip flops or trainers. It's also advisable that everyone wears hats and gloves when going out into nature; not only will these items help keep people warm but they can also protect exposed skin from sunburn! Finally, don't forget about bringing along raincoats! Even though rain isn't always forecasted during summer months there's still no harm in being prepared just in case nature decides otherwise…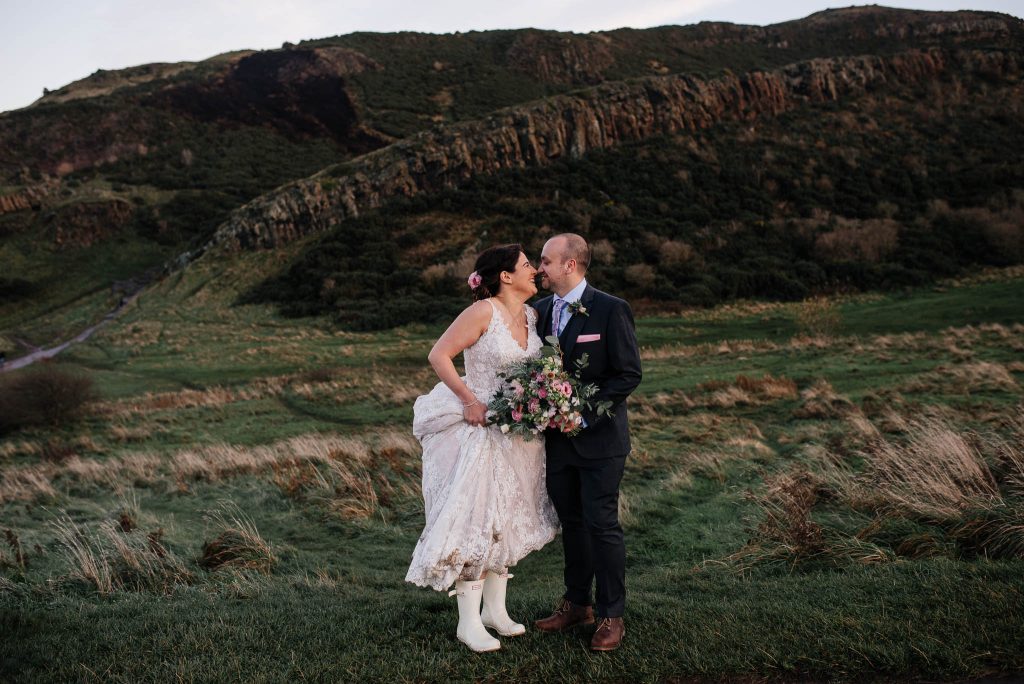 Scotland is a wonderful place to elope
Scotland is a wonderful place to elope. It's a beautiful country with so much to offer, whether you're looking for an outdoor or indoor ceremony, or just want to get married by yourselves in the middle of nowhere. Scotland can be very affordable, especially if you want a small wedding with only your family and close friends there.
Scotland also has many unique venues that can make your day extra special. If you're planning on having an outdoor ceremony, why not get married at one of the most famous castles in Scotland? Or if inside weddings are more your thing, have your reception at one of the Scottish distilleries where whiskey has been made for centuries!
Beautiful backdrop for your wedding photos
Scotland has a lot of history, so you can find beautiful locations for your elopement. However, with that said, the weather is unpredictable and you should be prepared for anything.
Conclusion
The main takeaway from this article should be that eloping in Scotland is an amazing experience. It's a beautiful country with so much to offer, and there are many local suppliers who can help you create the perfect wedding. If you're planning an elopement, make sure to do your research beforehand so that nothing goes wrong!
Eloping in Scotland can be a magical and memorable experience for couples seeking an intimate and stress-free way to tie the knot. From the stunning landscapes and castles to the ease of the legal process, Scotland offers a unique elopement destination. By considering the legal requirements, popular elopement locations, planning process, and cost breakdown, you can make your elopement dream a reality. Additionally, with the availability of elopement packages, international couples and those without vendor connections can have a worry-free elopement day. So why not consider Scotland for your special day and create lifelong memories in this enchanting destination.
FAQs
What types of elopement packages are available in Scotland?
There are a variety of elopement packages available in Scotland, ranging from all-inclusive packages that include a photographer, officiant, and accommodations, to more customizable options where you can pick and choose the vendors and services you need. Many wedding planners and venues offer elopement packages, and you can also find packages that cater specifically to adventurous couples who want to get married in the great outdoors
Are there any restrictions on where we can elope in Scotland?
There are very few restrictions on where you can elope in Scotland, as long as the location is accessible and safe. You can get married in a castle, on a mountaintop, on a beach, or in a forest – the possibilities are endless! However, it's important to check with local authorities and obtain any necessary permits or permissions before getting married in a public space.
How far in advance should we plan our elopement in Scotland?
It's recommended that you start planning your elopement in Scotland at least six months in advance, although some couples prefer to plan a year or more ahead. This will give you plenty of time to secure vendors, accommodations, and any necessary permits or permissions, as well as to ensure that you can get the date and location you want.
Can we bring our own vendors for our elopement in Scotland?
Yes, you can bring your own vendors for your elopement in Scotland, although it's important to ensure that they are licensed and legally allowed to perform their services in Scotland. Some elopement packages may include vendors, while others may allow you to choose your own.
Are there any additional considerations for international couples eloping in Scotland?
If you're an international couple planning to elope in Scotland, there are a few additional considerations to keep in mind. You will need to ensure that your marriage will be legally recognized in your home country, and you may need to obtain additional documents or permits in order to get married in Scotland. It's also important to consider travel logistics, such as obtaining visas and booking flights and accommodations.